Traction Services
TRACTION SERVICES FROM ROSSLARE EUROPORT
For those who require their own trailer of goods to be transported, Newline Transport can offer this service across Ireland.  Avoid the UK land bridge, custom delays and take advantage of the direct Europe to Ireland connection via Rosslare Europort.
QUALITY & EFFICIENCY Transport Services from Rosslare Europort
Established for almost 20 years, Newline Transport are well known for our capabilities to deliver excellent customer service and pride ourselves on the degree of flexibility we offer our partners.  Our fleet of vehicles comprise of a selection of differing sizes thus allowing for a selection of differing payloads available to be pulled.
We are ideally located, within minutes from Rosslare Europort and 1.5 hours from Dublin Port, to offer prompt and efficient traction services across Ireland.
NEW PARTNERS for Haulage Contractors Wexford
We are committed to developing long term relationships with our clients.  We treat our clients' trailers as if they were our own, therefore leaving you assured of the quality of care that not only your goods but also that your vessel is collected, protected and delivered.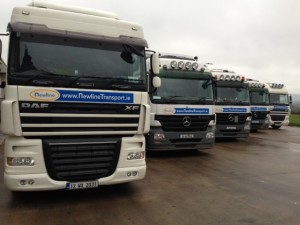 Make an Enquiry